Planted in the 1940's, The Mount Zero Olive Grove is one of oldest olive groves in Australia. Jane and Neil Seymour purchased the rundown olive grove at the bottom of a mountain in 1993 with dreams of a simpler life. The grove was in such disrepair that the first commercially sold olives and olive oil were not produced until 1996. Jane and Neil's son Richard joined the business in 2005, looking after distribution and brand management from the Mount Zero warehouse in Melbourne's west.
A total of 6000 Spanish Manzanilla and Gordal Olive trees line the base of the Grampians most northern summit, Mount Zero. Here Mount Zero practice biodynamic farming techniques and are Demeter certified. The grove is self-sustaining in its farming practice, feeding the trees directly from the soil humus rather than chemical inputs and their energy supply is sourced from off-grid wind and solar generators.
Collaboration and a drive for innovative, quality produce has fuelled the Seymour family and the Mount Zero brand in becoming one of Victoria's great food stories – working with the Barenji Gadjin Council to produce their Pink Lake Salt and working with neighbouring farms to produce pulses and grains.
Shop their range here!
Connect!
Facebook https://www.facebook.com/mountzeroolives
Instagram https://www.instagram.com/mountzeroolives/
Youtube https://www.youtube.com/channel/UCuitOdKFHja1i-KSb-RT4cQ
Twitter https://twitter.com/MountZeroOlives
Here, we share Allyse Wafer's recipe hearty Autumnal salad recipe using Mount Zero's Pearled Farro and fruity Extra Virgin Olive Oil, courtesy of Mount Zero.
Mount Zero Pearled Farro, Roasted Cauliflower, Kale and Blistered Grape Salad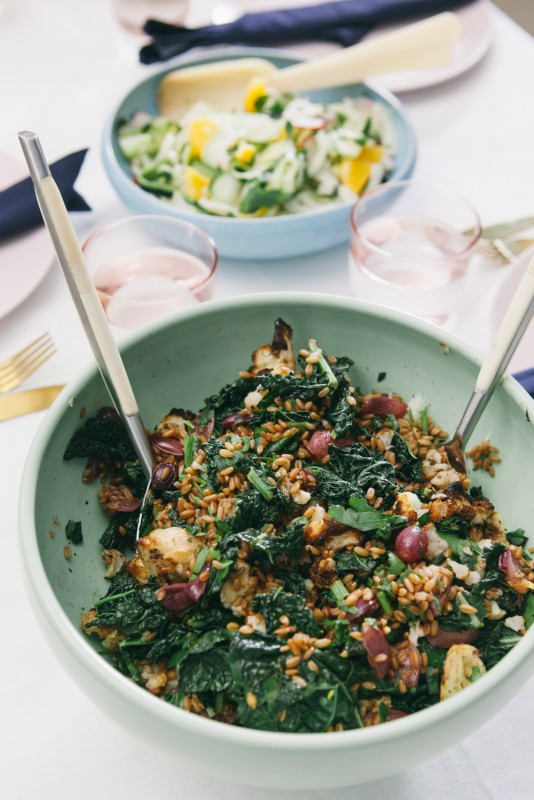 Ingredients
½ head Cauliflower
½ tsp Ground Cumin
½ tsp Sumac
1 cup of Red Grapes
1 cup Mount Zero Pearled Farro or Cracked Farro
½ bunch Black Kale or Green Kale, stems removed
Finely grated zest and juice of a Lemon
Small handful of Continental Parsley
Mount Zero Extra Virgin Olive Oil
Mount Zero Pink Lake Salt and Pepper to season
Method
Preheat the oven to 180 degrees.
Firstly, cut the cauliflower into florets and arrange on a baking tray. Sprinkle over the ground cumin and sumac, drizzle with olive oil and season with Mount Zero pink lake salt and pepper. Roast until the cauliflower is crisp and starting to brown at the edges.
Meanwhile, slice the grapes lengthways and add to a hot pan with a touch of olive oil. Cook until the grapes have blistered and are sticky. Set aside.
Cook the pearled farro as per the packet instructions until the grains are tender.
Remove the black kale/green kale leaves from the woody stems and slice into thick ribbons. Saute in a pan with a drizzle of olive oil until cooked through.
Alternatively, you can roast the kale if you prefer a crispier texture. Assemble the cauliflower, grapes, kale and farro in a serving bowl.
Finish with the finely grated lemon zest and juice from a lemon and some finely chopped Italian parsley. Season to taste and drizzle with a touch of extra virgin olive oil and an extra sprinkle of sumac.