Summer sipping ~ Calmer Sutra Tea's iced chai recipe
We are appreciators of small artisan food makers and producers – those who bring to their work a passion and knowledge that, certainly in this case, you can taste. Calmer Sutra Tea, the creators of the first wet chai, are the embodiment of this.
Handcrafted in small batches in Melbourne using the highest quality organic tea and whole spices, Calmer Sutra Tea have garnered a loyal following since beginning their journey in 2002.
So why a wet chai, you ask? Well, for founder Caitlin West, a masala chai is not complete without the inclusion of freshly grated ginger root, and using a fresh spice means moisture. Moisture makes the blend less stable and more perishable. Enter honey. Pure honey is one of nature's most powerful natural preservatives and just happens to compliment black tea and masala spices beautifully. The honey also helps to lock in the flavour and abundant beneficial properties of the spices. Problem solved.
Calmer Sutra Tea's original Calmer Chai is an authentic blend of smooth black tea leaves, aromatic Indian spices (including cinnamon quills, cardamom pods and star anise flowers), pure Victorian honey and fresh ginger root. Their Vegan Chai, which is also fructose free, is made with organic rice malt syrup and there's also tea and caffeine free version with a dandelion and chicory root base, sweetly named Dandi Chai.
Throughout the years, Calmer Sutra Tea's journey has been rich and eventful with each year bringing new opportunities and projects, including additions to their range such as their Super Spiced Cacao – a superbly spiced and satisfying blend organic and fair trade raw cacao, maca powder, chilli, cardamom, fresh ginger, tangerine zest, rice malt syrup and coconut sugar. This lifelong passionate journey continues to bring peace and calm to the daily ritual of many sippers Australia wide.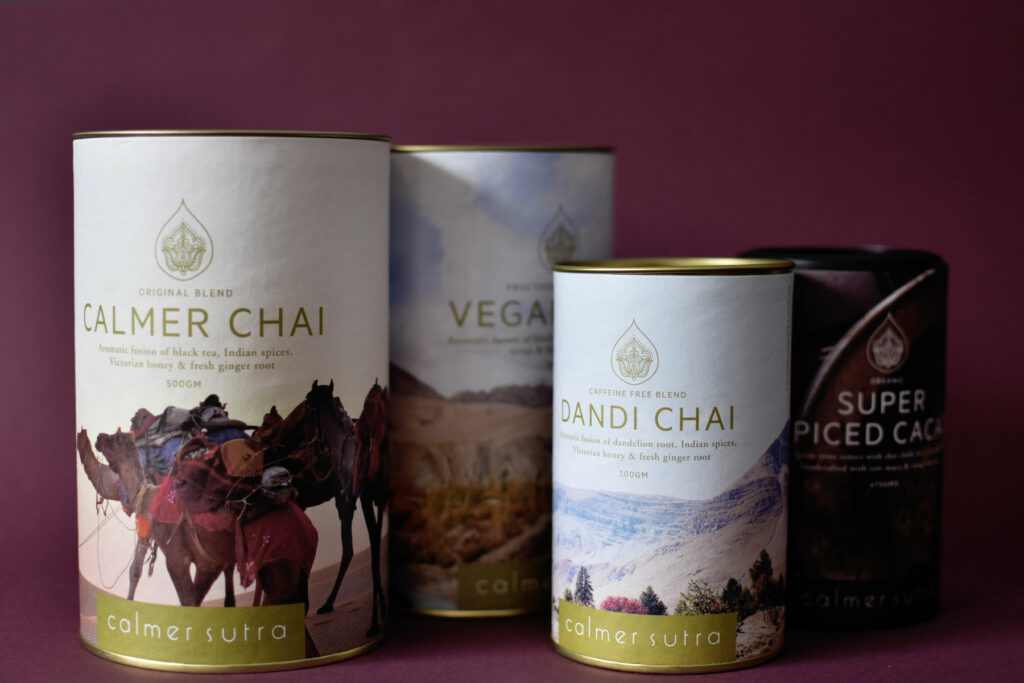 Calmer Sutra's Iced Chai, by founder Caitlin West
With warmer weather seeping slowly into our days, we find ourselves mixing it up and opting for chilled drinks over hot options. Chai is no exception here.
The ritual of warming your hands around a hot cuppa and cosying up on the couch can be replaced with sweet cool sipping on an iced chai in your deck chair. Ok, here's what you need –
Ingredients
1 teaspoon fresh Calmer Sutra Chai (Calmer, Vegan or Dandi blends)
1 teaspoon honey (or sweetener of choice)
Soy milk (or milk of choice)
Ice cream
Ice
Chai sprinkles
Method
Place 1 heaped tablespoon of fresh chai and 1 teaspoon of honey (or your choice of sweetener) into a jug and cover with 80ml of freshly boiled water and steep for 2 minutes
Top jug with 220ml of cold soy milk (or milk of choice)
Prepare a tall glass with lots of ice and a scoop of ice cream*
Strain chai into the glass and dust with chai sprinkles
*optional but you'd be a fool not to!