Meru Miso ~ fresh unpasteurised Tasmanian miso
Based in Tasmania, Meru Miso was established by Chris and Meagan de Bono in 2015 with a view to craft the highest quality Australian made Japanese condiments that respect traditional techniques. Originally from Melbourne, the name Meru Miso comes from the Japanese pronunciation of Melbourne 'Meruborun'.
A staple in Japanese cooking, miso is a paste is made with a base of koji (inoculated rice), soybeans and salt; and theirs is handcrafted in small batches using the best quality Australian bio-dynamic and organic ingredients. It's fermented naturally without the use of temperature controls and there's nothing added during the process.
Meru Miso pastes, which include White Shiro, Mild Chickpea and Red Edo, are fresh and unpasteurised (so they're kept chilled) – creating miso pastes that are full of beneficial bacteria and enzymes. Many miso pastes on the market contain alcohol to keep them shelf stable, thus neutralising these qualities.
We stock three of their miso pastes –
Sweet Red Edo Miso
This sweet miso has a deep and robust flavoured that ranges in colour, from beige to russet.
Sweet White Shiro Miso
With a greater amount of koji (inoculated rice) in this miso, this is a sweet, light bodied miso with notes of caramel and maple.
Mild Yellow Chickpea Miso
This miso is the strongest in their range (though still relatively mild).  It's a little nutty, which can be attributed to the use of chickpeas in place of soybeans, and its sweetness is less forward than their other miso pastes.
We also stock Meru Miso's powdered miso, packaged in single serves which can be added to a mug of hot water for an instant miso broth.
A Very Versatile Miso Marinade
This one's handy – a marinade that can be added to roasted vegetables of any kind (works particularly well with hearty vegetables such as pumpkin, sweet potato or carrots), a fry-up of greens or, with a little added brown rice vinegar makes a great vinaigrette for warm or cold salads.
Makes
Around a third of a cup of marinade. Depending on what you're after, this can be spread a long way for a subtler flavour, or for a fuller, umami-rich flavour, use a little more liberally!
Ingredients
2 heaped tablespoons Meru Miso Paste – any of the 3 varieties will work
1 tablespoon Carwari's Toasted Sesame Oil
1 tablespoon Mirin (a Japanese sweet cooking wine)
Optional: a chunk of butter, for added richness.
To serve: a sprinkle of toasted sesame seeds, a sheet or two of Nori (of which we carry a few different brands, including one produced in Tasmania) and togarashi are well-suited accompaniments.
Method
Simply mix together your ingredients to form a loose paste.
As a marinade for roasted vegetables, coat vegetables in miso mixture and roast at 180°C and roast as usual (depending on what you're roasting). Check halfway through and adjust the heat if necessary – the miso can burn easily, which, depending on your tastes, can be delicious, but can be avoided by roasting at a lower heat for a longer time.
As a marinade for a fry-up of greens (at this time of year think brussels sprouts, cabbage, kale), simply add the miso mixture to the pan towards the end of cooking, just to heat it through (if you add the mixture any sooner you'll no doubt find it sticking to the pan and burning).
For good measure add a little toasted nori seaweed, roasted sesame seeds or togarashi. 
Okinawan Taco Rice
An iconic fusion dish that hails from Okinawa, Japan — this dish has innumerable variations and is easy to adjust according to your tastes (cheese/no cheese, chilli/no chilli, extra ginger, crisp lettuce or kale). The miso in this recipe gives such a beautiful, umami richness that's lovely against the kick of ginger and chilli. It's so simple and so, so satisfying.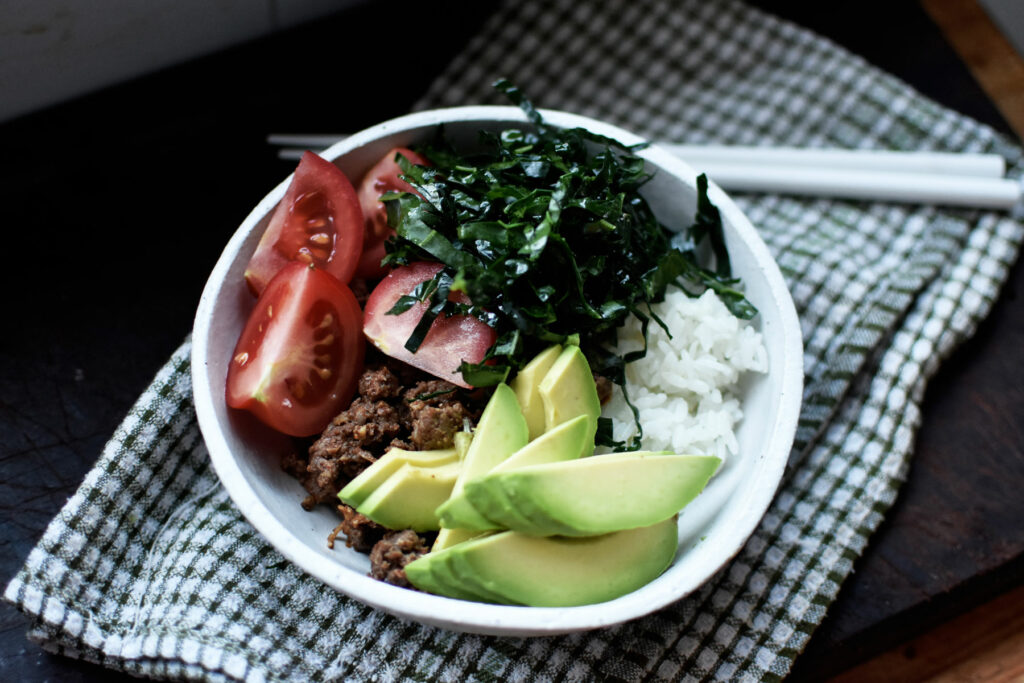 Serves
4
Ingredients
Marinated beef
500g minced beef
1 1/12 tablespoon Meru Miso Sweet Red Miso
1 knob fresh grated ginger
2 teaspoons light soy sauce
2 teaspoons mirin
1 teaspoon sweet paprika
1 teaspoon ground cumin
Plus a few tablespoons of stock or water, to encourage a beautiful sauce for your rice to soak up!
Rice 
2 cups koshihikari (or short grain white) rice
Toppings you could include 
Greens – crisp lettuce (either cos or iceberg) or black kale, finely shredded
Very ripe tomatoes, quartered
1 Avocado, sliced or cubed
Cheddar cheese, grated coarsely (ours is a lighter version so it's not seen here, but it's found in most recipes for Okinawan taco rice, and for good reason)
Chilli flakes, cayenne pepper or Sriracha
Method
Start by cooking your rice, a method for which we've posted here. Once cooked, set aside for 10 to 20 minutes, which steams the rice and leaves it beautifully sticky! 
Add minced beef to a heavy based fry pan, using a little rice bran oil if needed, on a medium high heat and allow to fry for a few minutes before adding remaining ingredients (ginger, soy, mirin, cumin powder and sweet paprika). Cook through, adding the miso last and heating through for a minute, allowing it to lightly caramelise in the pan. If it's too dry, add a few tablespoons of stock or water to create a rich sauce for the rice. 
Then simply serve rice, spoon over a little sauce from the pan and then add your mince and extra toppings as you like.