Kehoe's Kitchen ~ very good fermenters
Kehoe's Kitchen make beautiful ferments with incredible integrity.
With a commitment to using only the highest quality ingredients and supporting our local organic and bio-dynamic farming community, all produce sourced for Kehoe's Kitchen ferments are Australian organic or bio-dynamic.
They are, remarkably, the first to produce Australian certified organic ferments.
Each batch of their wild fermented krauts, kimchi and cashew cheeses are populated by the plentiful bacteria naturally present on their ingredients, resulting in ferments with a greater number and more diverse strains of bacteria than if they were to rely on starter cultures.
Of their range, we stock their fermented vegetables — including the gold-medal-winning Traditional Sauerkraut, Kale & Carrot Sauerkraut and a beautiful White Kimchi — plus a range of naturally fermented cashew cheeses and pickles. We also stock their Beetroot & Ginger Sauerkraut Juice — a deep purple, zingy probiotic-rich liquid that's a great pick-me-up.
The Kehoe's Kitchen vegetable ferments are fully fermented before being jarred, ensuring more digestive enzymes, higher probiotic content, no fizz in the jar and a beautiful mature traditional acidic sauerkraut or kimchi flavour.
Their cashew cheeses are wonderfully creamy, with a sourness that's telling of their natural fermentation. They're beautiful as a dip, slathered onto toast or added thickly to a falafel wrap. They're a revelation when added to freshly boiled and seasoned pasta, along with a few bits and pieces (parmesan, herbs, sundried tomatoes, dried flaked chilli), which we tried and tested (and adored), as you can see below.
Newly added to the Kehoe's Kitchen range, the Mustard Cauliflower Pickle, Whole Chili Pickles and Pickled Kimchi Cucumbers are, like the rest of their range, flavour-packed and healthful. When you try these for the first time you get the sense that family members, friends, anyone who has tried them – have urged them to produce them for sale. Again, their integrity is owed to the masterful craftsmanship of their makers and the quality of the ingredients used. They're of great use to the cook who has very little time on their hands, adding instant flavour to any simple dish (for example a bowl of rice, lentils or chickpeas, seasoned, with herbs and any one of these pickles makes for a quick, delicious meal).
Kehoe's Kitchen foods are grain free, gluten free, dairy free, soy and sugar free, and thus are suitable for those on Paleo, GAPS, Body Ecology, RAW, wholefood and many other healing diets.
Simple Pasta with Pesto Cream Cheese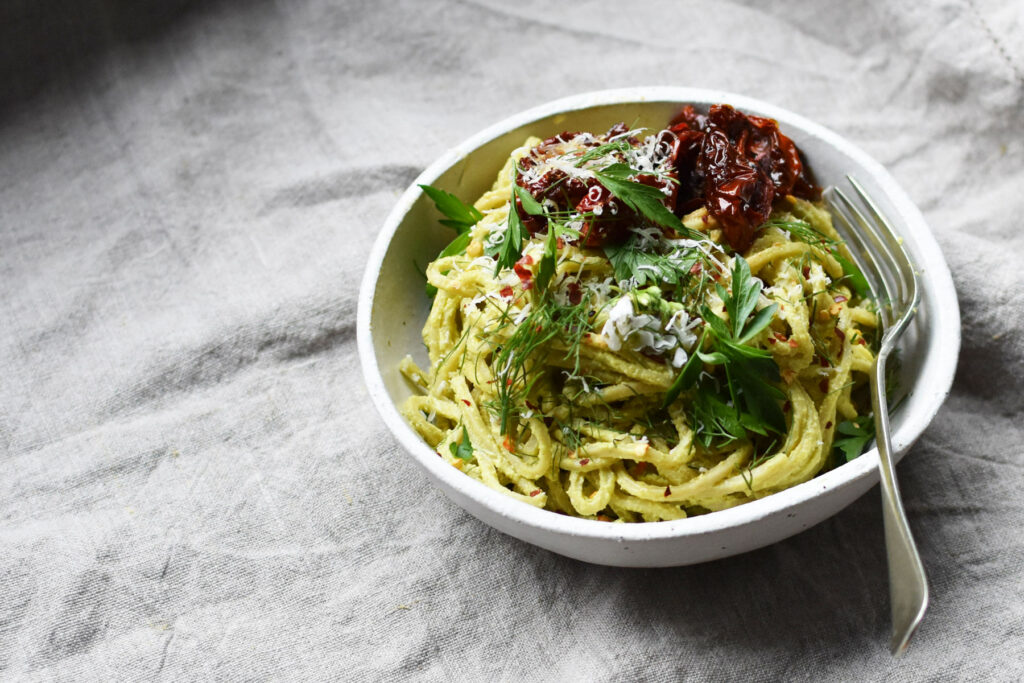 To make the simplest, most satisfyingly quick and delicious pasta dish, add Kehoe's Kitchen Pesto Cashew Cream Cheese (a big dollop per serving) to a drained pot of fresh spaghetti (of which Organic Indulgence do a particularly lovely version), season and garnish with dried chilli, fennel fronds, herbs and Parmesan cheese (of course, for a dairy-free dish you'd simply omit this).
If you have an extra five minutes, you might also get your hands on some dried tomatoes (Ceres Dried Tomatoes, for example), throw in a pan with a finely sliced garlic clove and dried chilli flakes before adding a little hot water (just enough to cover the bottom of the pan), cooking on a medium to low heat and allowing the tomatoes to plump up. When the liquid has reduced (and definitely before the pan is dry), add a little olive oil, tossing the tomatoes so that they soak up the oil and pile atop each dish. These add a sweetness that is so beautiful alongside the creamy cashew cheese.